Home | News | Trading Post | Message Board | Hazard Kentucky.com
JOE DUNCAN 1927 - 2012
---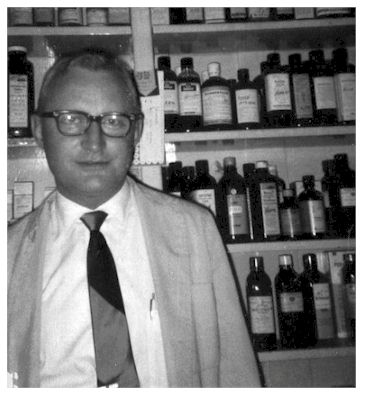 Joe Duncan, who operated Hazard Rexall Drug for many years, died Friday from a massive heart attack. He was 85. Duncan was born at the Good Samaritan Hospital in Lexington on September 17, 1927. He attended public schools in a small town near Somerset. He entered the 5th grade at St. Joe's school in Bardstown, KY. Joe served in the U.S. Army at Camp Atterbury in Edinburgh, Indiana for two years before World War 11 ended. He attended Union College in Barbourville for two years before transferring to the University of Kentucky in Lexington. He also attended Pharmacy School in Louisville. After graduating from UK in 1952, Joe came to Hazard where he purchased the Hazard Rexall Drug Store and operated the business until 1989. Joe's retirement was short lived after 37 years at Hazard Drug. He stayed busy working in Isom, Leatherwood, Whitesburg , Hazard, Hindman, Martin, Neon , Jenkins, and several other places in Eastern KY. He coached a Little League baseball team of 12 year olds on the old Collins Field where the Hazard Pavilion now stands. He is survived by his wife, Elizabeth of Hazard and two sons, Bruce and Dana Joe Duncan. Joe was a Rotarian for almost 25 years.
---
Most of the time you could find Joe Duncan, the friendly pharmacist of Hazard Rexall Drug Store, in the back of the business, working long hours in his office. He operated Hazard Drug, along with this wife Elizabeth, for 37 years. They were married since 1953, (59 years).
"I worked for Joe Duncan at the Hazard Rexall Drug from 1960 through 1962 at the soda fountain," recalled Clara (Davidson) Nordstedt. "He was a very nice person to work for," she said. Elizabeth Snyder, became the bookkeeper at Hazard Drug after her marriage to Joe. "The Hazard Rexall Drug was home to my husband, Joe, and to me and our two sons, Bruce and Dana Joe for many years. We spent a good part of our lives in those buildings," Elizabeth recently told WSGS. Joe's wife is the only woman to ever be elected to the Hazard City Commission. His brother served on the Court of Appeals along with Judge Bert T. Combs.
---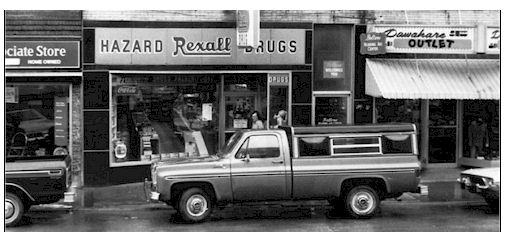 The funeral was held at the Mother of Good Council Catholic Church in Hazard. Burial took place at the Mill Springs National Cemetery in Nancy, Kentucky, west of Somerset on KY 80.
Joe Duncan was the son of the Clarence Duncan and late Mary Wentland Duncan. He is also preceded in death by one sister: Majorie Cavanaugh and three brothers: Parker W., Frank & David Duncan. He is survived by his wife: Elizabeth S. Duncan; two sons: Bruce Duncan and wife: Carolyn of Lexington, KY & Dana Joe Duncan of Hazard, KY along with a host of nieces, nephews, family & friends.
.


In addition to the solid citizen of the community that he was, it's the little things I'll always remember...like taking us to the drive-in with a cooler full of Orange Crush...taking us out to eat after church...RIP Joe. Elizabeth, Bruce and Dana Joe, we are thinking of you. Jim Marshall, St Louis, MO
---
Back in the '60's, we listened to every Red's game on WKIC. The St. Louis sporting news, gave a report on the majors and minors every week and Joe Duncan had them for sale at Rexalls. walkturn4ever
---
I am so sorry to hear about Joe's passing. I am sure of the fact that he left this earth in a lot better shape than when he found it. Well done Joe, you will be missed but never forgotten. Love, Caroline Rose, Brooks, KY
---
So sorry to hear this news. I'm sure he was very proud of a great son like you. Our thoughts are with you in this sad time. Take care friend, wish we lived closer to you to help you out. Ken and Cathy Hosner
---
May the Lord our God bless you at this time. You had a wonderful father. One of the best men I ever met. Our family will be praying for all of you. Joe will be missed so bad. Mary Belle Goff, Hazard, KY
---
So sorry for your loss. He will certainl be missed. I loved his stories about the family. Tom Harrison Duncan
---
I worked for Joe at Hazard Rexall Drug Store about 1964 to 1966 at the Fountain. He was a good person to work for and I enjoyed my time working at the drug store. It was nice to know the family as well. Joe will be missed. Jean Ritchie, Hazard, KY
---
We are so sorry for your loss. Joe was a wonderful man and we will miss him at church. Praying for the family. Donnie, Judy & Kaitlin Combs, Hazard, KY
---
We were so sorry to hear of Joe's death. He was such a nice man, and we will miss him, especially at church. Please know that you are in our prayers. Love, Pat and Gary Lindon, Hazard, KY
---
Very sorry to hear about Joe...he will be missed. Owen C. Barnett, Lexington, KY
---
I'm sorry for your loss. I loved by Joe. Mary Nell McGary, Lexington, KY
---