Home | News | Classifieds | Message Board | Hazard Kentucky

Former UK star Ralph Beard dies
Ralph Beard, an All-American guard for Kentucky in the 1940s, has died. He was 79. Beard, who helped the Wildcats win national championships in 1948 and 1949 under coach Adolph Rupp, died Thursday morning at his home.
A speedy, 5-foot-10 guard, Beard was among Rupp's famed "Fabulous Five," along with Alex Groza, Wallace "Wah Wah" Jones, Cliff Barker and Kenny Rollins.
The Wildcats finished 36-3 in 1948, beating Baylor 77-59 for the national title. The following summer, Rupp and the five starters teamed with the AAU champion Phillips Oilers to win the Olympic gold medal in London, then won another NCAA championship.
Hazard High basketball star, Garland Townes and former coach Joe B. Hall were team mates of Beard at Kentucky in the late 1940s. "With his style of play, he would be an all-American in today's game," Hall said. "His style of play was timeless. He was so aggressive and quick, a tenacious defender. He would make any adjustments offensively it took to make himself better."
Kentucky Athletic Director Mitch Barnhart said Beard's passing was "a tremendous loss" for the school.
Beard was the school's first four-time All-SEC selection and was also named to the SEC All-Tournament all four years. He left Kentucky having scored 1,517 points, currently 14th on Kentucky's all-time scoring list.
"Ralph was without question one of the greatest to ever wear the Kentucky uniform," Barnhart said. Beard, who would have been 80 on Sunday, was born in Hardinsburg, then moved to Louisville to attend high school, said his daughter-in-law, Tina Beard. After his pro career ended, Beard returned to Louisville and went to work at Gould's Pharmaceuticals as a salesman and later as general manager, she said.
---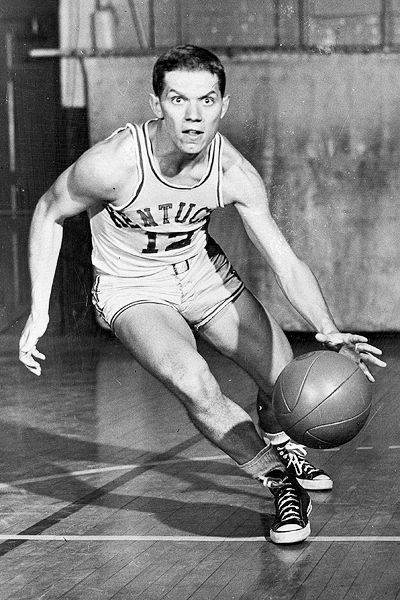 Let us know if you listened to our conversation with Ralph Beard on WSGS