Home | News | Trading Post | Message Board | Hazard Kentucky
---
Widow Of Hazard Businesses Owner Dies At 102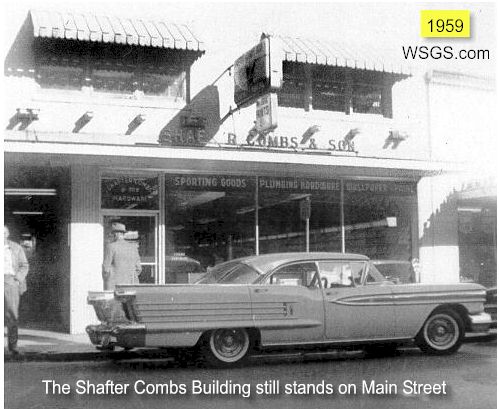 Gertrude Hurst Combs, 102, died on Sunday at her residence in Hazard. She was the widow of Shafter Combs who operated the Shafter Combs Store, first on East Main and later on Main Street in Hazard.
The Shafter Combs store was a popular business for many years offering everything from sporting goods, plumbing and hardware supplies, to toys for the kids. The building is now vacant.
Gertrude Hurst Combs was born on May 16th, 1906, six years before the railroad came to Hazard. It would be eight years before a car would first travel down Main Street.
She was born in Breathitt County, the daughter of Elitah Hurst and Nannie Caudill Hurst. She was a member of the Bowman Memorial United Methodist Church and enjoyed gardening, sewing and cooking. She was preceded in death by her husband, Shafter, three brothers and four sisters.
Survivors include one son - Gene Hurst Combs of Hazard, two granddaughters - Vivian Carter and Geanie Mitchell of Hazard, five great grandchildren - Trigg Mitchell of Lexington, Hillary Simms Mitchell of Connecticut, Kenton Hill Carter of Lexington, Parker Ewing Carter and Mary Simms Carter both of Hazard. Two great great grandchildren - Carolyn Grace Mitchell and Emily Simms Mitchell both of Lexington.
---
Add your comments to this page

Sorry to hear about Mrs.Combs passing. We lived up Cutshin (Wooton) back in 1959-And we got our frist stove from the store-on credit! I think our payment was 5.00 dollars a month! I still have receipts from then. Ellison Wooton, Martinsville, IN
---
How well I remember this lady and her family. She and Shafter were beyond compare in my book. I always knew where to go when I became an adult and had my children when it was time to buy Christmas presents. She stocked only the best of toys, especially Ideal, and Madame Alexander dolls. If I didn't have enough money at that time she would lay them back and I would pay them out before it was time to place them under my tree. She and Shafter extending that little thought for a working Mom made them extra special to me. I spoke with Mrs. Combs last year early on to find some answers on a genealogy quest I was doing that included Shafter's Dad, White Jim Combs. She was getting feeble then but spoke clearly and gave me an idea of where to find what I needed. Hazard has lost a most gracious lady. IdaLee Hansel, Spartanburg, SC
---
At Christmas, Shafter Combs' was a toy delight. The display of Madame Alexander dolls in the window was always wonderful. anonymous
---